ACC Care Center
ACC Care Center, conveniently located in the Pocket/Greenhaven, has been serving seniors in the Sacramento area since 1986. ACC is well known in the community for excellence and continues to provide the highest level of care for its senior adults while maintaining a rich reputation for unparalleled customer satisfaction.
ACC Care Center Mission Statement
The mission of the ACC Care Center is to provide compassionate, person centered care that celebrates our cultural diversity and promotes the highest quality clinical and social services for residents and family members.
ACC Care Center Vision Statement
ACC Care Center is the premier choice for exceptional rehabilitation and quality nursing services provided in an atmosphere that feels like home.
Awards
"In December 2008, The Centers for Medicare & Medicaid Services (CMS) enhanced its Nursing Home Compare public reporting site to include a set of quality ratings for each nursing home that participates in Medicare or Medicaid. The ratings take the form of several "star" ratings for each nursing home. The primary goal of this rating system is to provide residents and their families with an easy way to understand assessment of nursing home quality, making meaningful distinctions between high and low performing nursing homes."
Click here for more information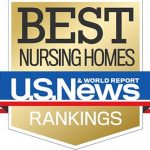 U.S. News recognized ACC Care Center as one of the best in California
"At the top of the California nursing homes list are those with a rating of five stars from the federal Centers for Medicare & Medicaid Services for their overall performance in health inspections, nurse staffing and quality of medical care."
Click here for more information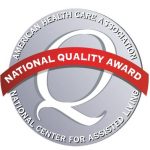 ACC Care Center has been recognized as a 2017 recipient of the Silver – Achievement in Quality Award for its dedication to improving the lives of residents through quality care.
The AHCA/NCAL National Quality Award has been designed as a progressive three-step process to encourage the continuous learning and development of integrated quality systems to achieve performance excellence. Each progressive step requires a more detailed and comprehensive demonstration of quality integration and performance. The criteria for each step is based on the Baldrige Performance Excellence Program. Silver—Achievement in Quality Award—Reviewed by independent Examiners, applicants who receive the Silver Award are able to develop and demonstrate effective approaches that help improve performance and healthcare outcomes.
Click here for more information

ACC Care Center has been identified by the Centers for Medicare & Medicaid Services (CMS) as one of the highest-performing nursing homes in California. Our nursing home is in the top 10 percent of the National Nursing Home Composite Quality Measure, which is a commendable achievement.
Congratulations letter from HSAG for being one of the top facilities.
Testimonial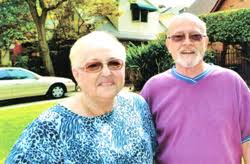 I appreciated all the help you gave me to get me back on my feet. Everyone was gracious, giving of their time and effort to help me get back to a healthy life. The two months I spent with you was unexpected, but turned out to a rewarding time of my life. You're a great team!
With affection,
Faye Delavan